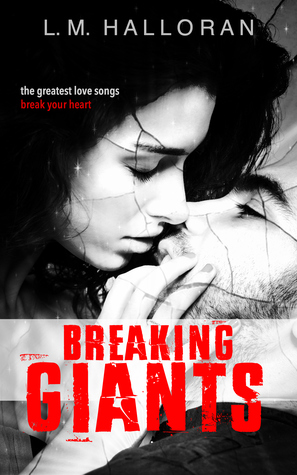 A rockstar romance unlike any you've read before…
When I meet Julian Ashburn, the reclusive frontman of indie-rock legends Breaking Giants, I do what any sane woman would do. Embarrass myself, then insult him. Because you only live once, right?
Besides, keeping my distance from the enigmatic, songwriting genius is an act of self-preservation. Julian is dangerous—a pool of kerosine to my pyromaniac. I have a weakness for broken men.
But sometimes the stories we tell and the songs we sing—about family, love, and ourselves—have to be rewritten in order for us to grow. Call it Fate, or stars aligning, or cosmic accident, but I'm about to find out that of the two of us, Julian isn't the broken one.
The greatest love songs break your heart.
If you're lucky, they heal it, too.
**Given to us by author in exchange for honest review**
I was kind of skeptical when I picked this up. I had just finished a 5 star read and I wasn't sure this book would cure my book hangover. I was  wrong sooo wrong. If you guys don't know by now, I am addicted to rockstars. I. LOVE. THEM. I don't read them often, because I don't want these books to become boring. This book was anything but. Julian and Rose stole my heart during their first interaction. I thought it was instalove, even if it was, it wasn't. If that makes any sense. The angst in this story drove me mad. I had whiplash from the ups and downs. Julian was so mysterious to me. Since this story is not told in dual POVs, he almost remained that way. I know I'm spoiled when it comes to dual POVs, so I didn't hold that against this book. In all honesty it didn't take anything from it. Now, back to Julian… I loved him. He was a sexy rockstar, of course I did. He was sweet , loyal, and kind of an asshole at times. Rose, Rose, Rose, I had to start a new list on Goodreads because of her… its title is, Girl Crush on the Heroine. Rose was everything I loved in an heroine. She was strong, brave, funny, confident, she was everything. She carried the story well. Through Rose's strong voice, we got to know Julian. And I enjoyed it immensely. This was my 1st read from this author. I have definitely become a fan. I hope this is the start of a great relationship with Ms. L.M. Halloran. Jasmine has to read this one, but she's tied up with another ARC.  What a great read. I mean, it rescued me from a severe book hangover. I owe it my life!
4 stars
-Natasha