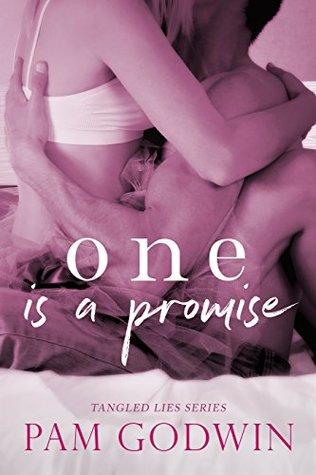 One promise.
One forever.
One look and I knew Cole was mine. My dark rebel in leather. My powerhouse of passion, devastating smiles, and impulsiveness.
When his job sends him overseas, he promises to return to me.
A promise that's destroyed in the most irrevocable way.
Two years later, an arrogant suit invades my heartbroken loneliness.
Clean-cut and stern, Trace is everything Cole wasn't.
At first, he's a job that will rescue my dance company. But as he intrudes on my life, our hostile relationship evolves.
He knows I'm still in love with Cole, but his dedication is my undoing.
Then a catastrophic moment changes everything.
Promises resurface.
Lies entangle.
And an impossible choice shatters my world.
I love two men, and I can only have one.
**ARC provided by author in exchange for an honest review**
I'm freaking speechless right now! I feel the worst book hangover coming on. Let me try to write a cohesive review… First of all I love Pam Godwin as much as I loathe love triangles. So I had to read this and was so excited to be gifted an ARC. I was pulled into this story within the 1st few pages. I loved Danni. She was quirky, giving, and loved Beyoncé. (Anyone who knows me, knows I love Beyoncé). My girl crush on Danni grew as I watched her fight to overcome debilitating emotional pain.  I was in awe of her. All while dealing with massive loss, she continued to be a source of light to other people. I don't want to give too much of the plot away, but bottom line… I fell for 2 men. Ms. Godwin really did a number on me. Her writing totally unarmed me. The expected became unexpected and the obvious choice became obscure. I posted numerous GR updates while reading this. One of my 1st updates read "This book is going to destroy me."  Destroy me it did and I loved every moment. I'm so freaking torn and confused. My heart goes out to Danni. I can't wait for the next installment. I think I may just text Jasmine again to discuss some more.  This will make the 20th text btw…lol. Read it!!! Its not your average love triangle!!!
4.5 stars
Natasha
I… I just don't even know where to start. This book left me with so many questions. ok, first of all, as Natasha said, we LOVE Pam Godwin, so of course when we had the opportunity we jumped on her arc. I wasn't immediately drawn into Danni. It wasn't until she met Cole that I was absolutely invested (which happened in the 3rd chapter). As I got to know her more, I began to appreciate her character more. She was dealing with deep sorrow, but still managed to inspire others. The one emotion that was immediate was hatred for Trace. It was clear from the onset that Cole and Trace were polar opposites. Yet, somehow I fell for both men, eventually. This is an amazing story. The characters were so strong and well developed. What I'm still trying to wrap my head around is that I knew this was going to be a love triangle. I knew she was going to have an impossible choice to make. Yet, somehow I still managed to be shocked. The only reason I'm not cursing and throwing my kindle is because I know the next one will be out in about a month. This is a definite MUST READ.
4.5 stars
Jasmine