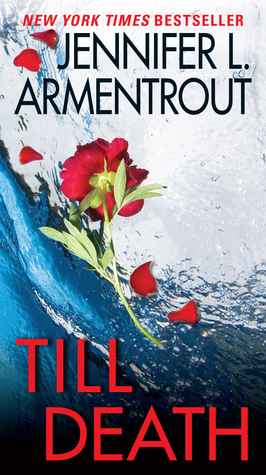 Blurb:
It's been ten years since Sasha Keaton left her West Virginia hometown . . . since she escaped the twisted serial killer known as the Groom. Returning to help run her family inn means being whole again, except for one missing piece. The piece that falls into place when Sasha's threatened—and FBI agent Cole Landis vows to protect her the way he couldn't a decade ago.
First one woman disappears; then another, and all the while, disturbing calling cards are left for the sole survivor of the Groom's reign of terror. Cole's never forgiven himself for not being there when Sasha was taken, but he intends to make up for it now . . . because under the quirky sexiness Cole first fell for is a steely strength that only makes him love Sasha more.
But someone is watching. Waiting. And Sasha's first mistake could be her last.
If you don't know by now JLA is the Yin to my Yang. I love her writing! And it doesn't hurt that she's a sweetheart. I fell in love with Dead List via Wattpad, so I knew JLA could also bring suspense to life. And boy was this book suspenseful. I don't normally read suspense, because my anxiety is too much…lol. Thank God for the blooming relationship between Cole and Sasha because I would have lost it. I was on the edge of my seat reading this! There were so many suspects. I figured it out early on, but changed my mind so many times. I loved Cole. He was the quintessential Alpha male, but so sweet. Sasha had been through a traumatic experience, but was determined to live her life. I rooted for them, while screaming at my kindle about danger. This book was filled with swoon worthy, jaw dropping, and panty melting moments. But damn, if I wasn't scared as hell through all those beautiful moments. Talk about cray cray!!!!!!!!!
4.5 stars
-Natasha
JLA is obviously one of our favorites, so our expectations are always so high when we read anything from JLA. This book lived up to my expectations and then some. I rarely discuss details of books with my husband or my friends because they just don't understand and because that's what I have Natasha for. But with this book, I was so excited that I talked to my husband about it as soon as I got home from working overnight. No, listen yall, I stayed up after an 8 hr overnight shift, to tell my husband (who normally only fakes an interest) the entire story line. And he was actively listening. Of course he followed with, "Bet that would make a great movie", but that's obviously the ultimate compliment! Ha!
But seriously this book was so good. There were so many twists and turns, and I didn't figure it out early on, so I was SHOCKED. Cole was such an alpha, but in the best, sexiest, sweetest way possible. He loved his girl and just wanted her safe and happy. Sasha was resilient and a really lovable character. Their interactions were awkward and sweet and hot and real. I loved watching them rekindle and rediscover themselves and each other. READ THIS BOOK!
5 stars
-Jasmine